Welcome to ICAE2022, the 14th International Conference on Applied Energy!
After we had to rely on virtual conferences for two years, we are looking forward to seeing as many of you as possible onsite again: On invitation by the Research Department Closed Carbon Cycle Economy, ICAE2022 will be hosted by Ruhr University Bochum in Germany from August 8 to 12, 2022. The conference will be held in hybrid mode, allowing both for onsite and for online participation. The theme of ICAE2022 is Closing Carbon Cycles – A Transformation Process Involving Technology, Economy, and Society. ICAE2022 will include keynotes and invited speeches, plenary sessions, dedicated workshops, and oral and poster presentations. The conference intends to represent the interdisciplinary character of the challenges, which are related to the ultimate goal of carbon neutrality. The list of addressed topics includes (but is not limited to):
» Renewable Energy
» Clean Energy Conversion Technology
» Intelligent Energy Systems
» Energy Ethics, Energy Management, Policy, Economics and Sustainability
» Mitigation Technologies
» Energy Science
» Energy Storage
» Transformation Processes
Special topic
» Perspectives for the FEW nexus against the background of the Global Anthropocene challenges
» Transformation Processes in Power Supply, Raw Material Supply, and Urban Structures
---
Please click the picture below to download the latest program book for the conference!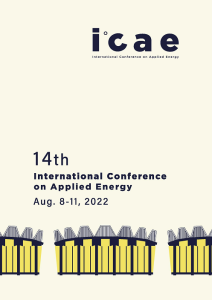 ---
If you have any questions, please feel free to contact: icae2022@applied-energy.org
---
In case you need an invitation letter for a visa application to take part in ICAE2022 onsite, please send an email to Birgit.Joswig@thermo.rub.de containing the following information:
Name / Position / Date of birth / Nationality / Passport ID / Date of Expiry / Address
An invitation letter will be sent to you via email.
---
Please contact us if you would like to propose and organize a session, a panel, a workshop, or a special forum at the conference.
---
All papers will be peer-reviewed, and accepted papers are required to be presented (onsite or online) orally or as posters at the conference. Selected papers from ICAE2022 will be recommended by the Scientific Committee for further consideration of publication in prestigious journals including Applied Energy, Advances in Applied Energy and other journals.
---
We look forward to meeting you at ICAE2022 in Bochum!
Click to download Call for papers of ICAE2022
Click to play the invitation video of ICAE2022 on YouTube
Prof. R. Span, Chair of ICAE2022 and
Chair of the Research Department Closed Carbon Cycle Economy
Prof. J. Yan, Co-Chair of ICAE2022 and
Editor in Chief of Advances in Applied Energy