General Information
Organized by
Asian Development Bank
Applied Energy
Applied Energy Innovation Institute (AEii)

Hosted by
Sophia University

Co-organized by
Mälardalen University Sweden

Supported by
Asian Development Bank (ADB)

Date
October 10-17, 2020

Time Difference
GMT + 9 hours
Venue
Yotsuya Campus, Sophia University
7-1 Kioi-cho, Chiyoda-ku, Tokyo, 102-8554, Japan
Sophia University official website:
https://www.sophia.ac.jp/eng/index.htmlCampus
Map link:
https://www.sophia.ac.jp/eng/info/access/map/map_yotsuya.html
VISA INVITATION LETTER
The Conference Organizers will gladly assist you during the Visa application process and provide a visa invitation letter to those delegates who have registered and paid to attend the Conference. Please note the following when applying for a visa invitation letter:

Delegates must fully register and pay to be able to apply for a visa invitation letter. The Organizers cannot provide a visa invitation letter to accompanying persons or family if they are not registered to attend the conference.

The visa invitation letter will help you during the application for a visa permit to authorities and is NOT intended to substitute this official document and/or process.

To request a visa invitation letter, you must provide the following information and send to cue2020@applied-energy.org. The conference invoice received after completing the registration payment must be attached in your request email. The letter can be issued only after your payment is complete. For more information, please contact cue2020@applied-energy.org. The visa invitation letter needs at least 5 working days to process.

Full Name
Date of Birth
Gender
Nationality
Institution
Position
Passport Number
Date of Expiry
Postal Address
Telephone Number
Conference Registration Number
Paper ID
Paper Title

HOW TO GET TO THE CONFERENCE VENUE
From airport to Sophia University (Yotsuya Campus):

There are several transfer plans from airports to Sophia University. The following transfer plans are presented as examples.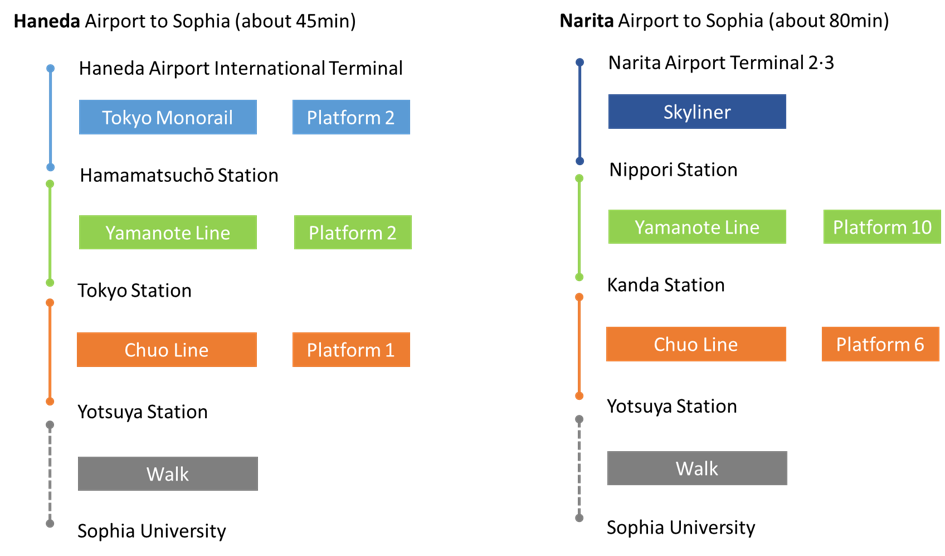 From Yotsuya Station to Sophia Universtiy: JR Chuo line, Marunouchi subway line, Nanboku subway line / 5 minutes from Yotsuya Station.
About Sophia University:
Sophia University's Yotsuya Campus is located in the heart of Tokyo, the thriving capital of Japan. Located on the perimeter of the campus are the National Theater, the National Stadium, interenational conventions facilities, and the Akasaka Palace, where visiting royal Families and political leaders are accommodated. The National Diet Library, one of the nation's largest libraries, is also very close. The abundant greenery of the campus creates an atmosphere of peace and serenity which belies its location in the center of a bustling metropolis, and student life is further enhanced by a wealth of facilities for the enjoyment of music, drama, art, and sports.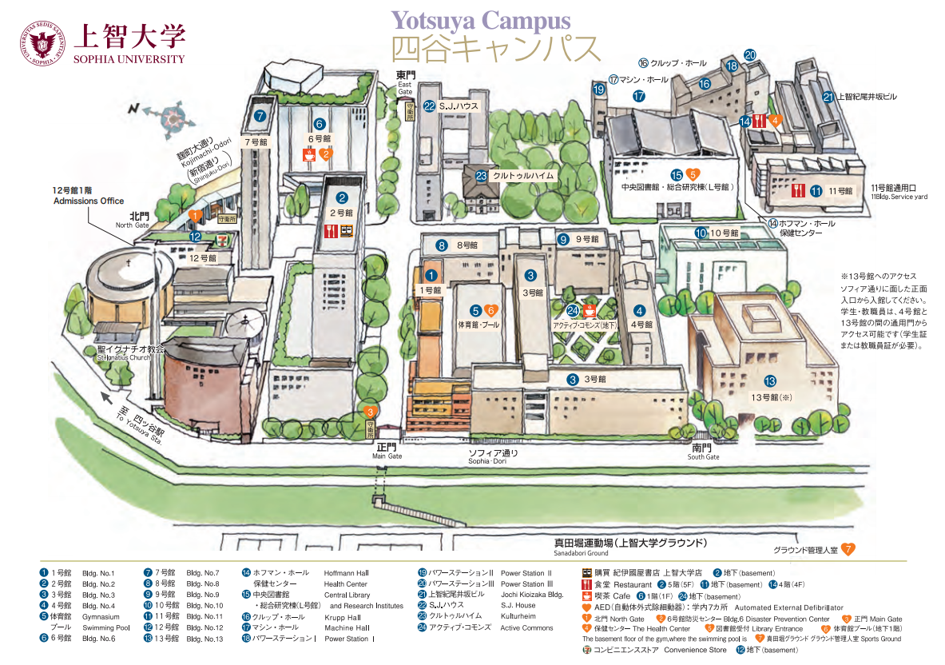 Yotsuya Campus Map:
https://www.sophia.ac.jp/eng/info/access/map/u9gsah00000011u1-att/yotsuya_2018.pdf
Yotsuya Campus Google Maps with Street View:
https://www.sophia.ac.jp/eng/info/access/map/map_yotsuya.html